Back
Webinar on "Awareness programme on Civil Services Exam"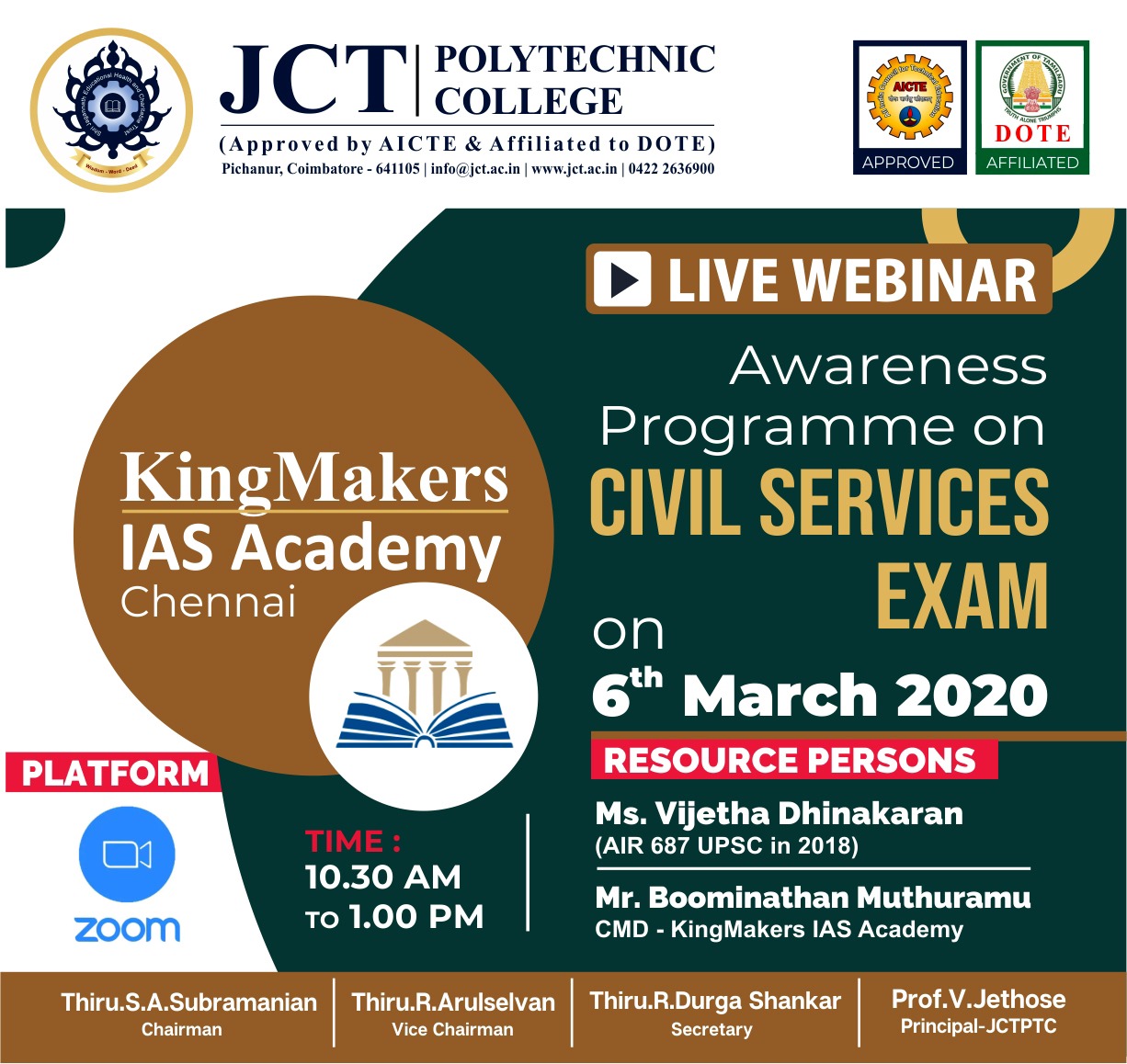 The Department of Training and Placement organized a webinar on "Awareness programme on Civil Services Exam" on06.03.2021 (Saturday).KingMakers IAS Academy, Chennaihosted the webinar for all the pre final and final year students. Totally 422 students attended the webinar.
The KingMakers IAS Academy is committed to the service of preparing graduates for Civil Services Examination, particularly from rural and socially down- trodden sections by offering training and guidance with adequate motivation. Their purpose is to help the Civil Service aspirants, excel in their endeavor to qualify in the most challenging examination. Their objective is to offer training and guidance in the right direction with a focus to prepare every aspirant entering the portals of KingMakers IAS Academy, to face the challenges in Civil Services Examination with confidence and competence.
Dr.V.J.ArulKarthick(Principal-JCTCET) and Prof.V.Jethose(Principal-JCTPC) welcomed Mrs. VijethaDhinakaran, AIR 687 in UPSC 2018and Mr. Boominathan M, CMD, KingMakers IAS Academy, Chennaiand Mr.Nethaji Kumar D, Placement Officer, felicitated the team.
Mrs. VijethaDhinakaran, gave an awareness among students about the Civil Services Exam. She clearly explained about the UPSC Exam structure. She briefly explained about the two types of Prelims and Main Examination and Final Interview in UPSC. She guided the students how to register, prepare and clear the test and interview.
She explained her experiences for cracking UPSC Examamination. She had an interactive session with our students.
The Management and Principal thanked the KingMakers IAS Academy, Chennai team.