Back
Webinar on "Civil Services as a Career Option"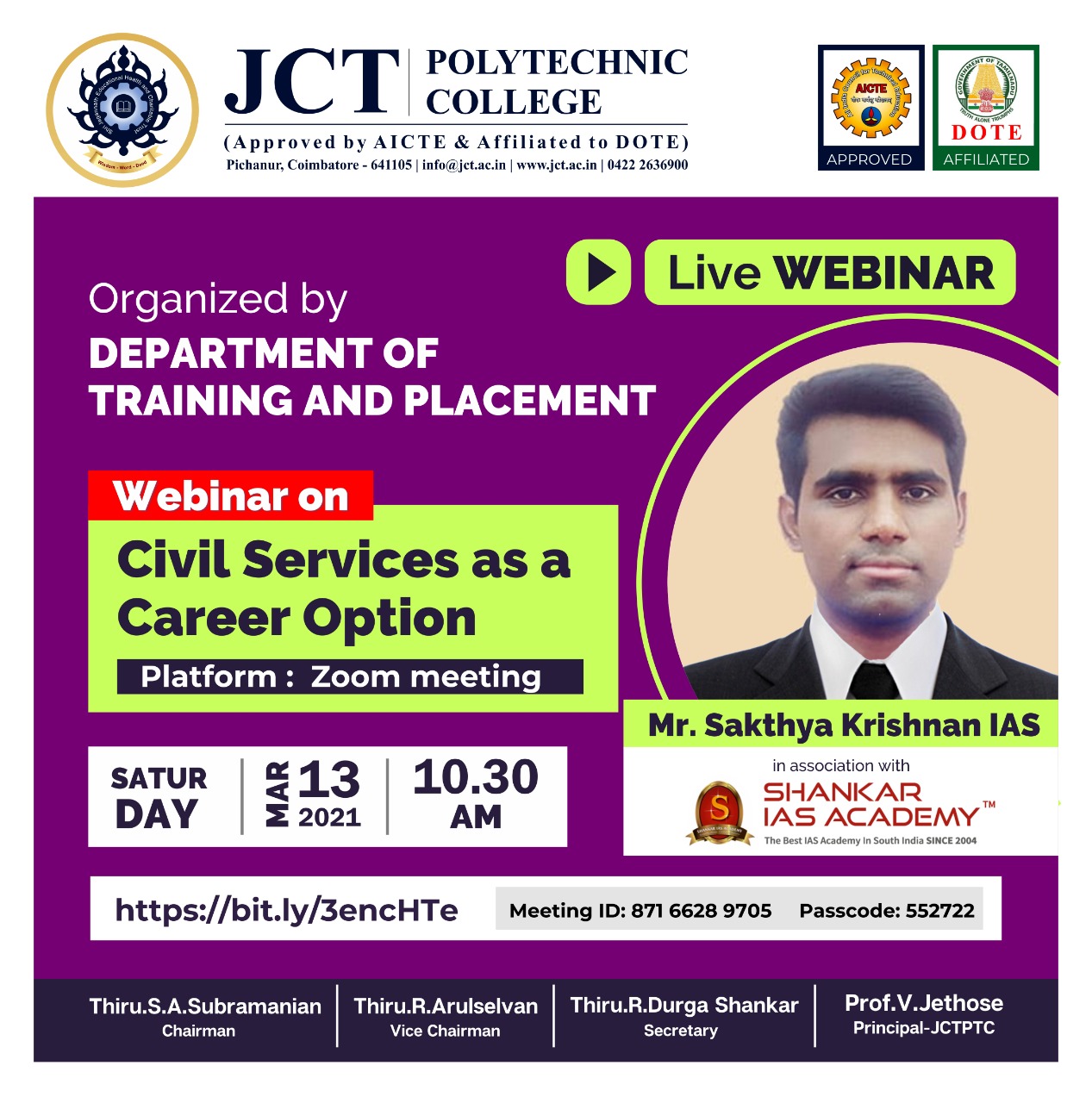 The Department of Training and Placement organized a webinar on "Civil Services as a career option" on13.03.2021 (Saturday).Shankar IAS Academy, Chennaihosted the webinar for all the final year students. Totally 124 students attended the webinar.
The SHANKAR IAS ACADEMY is one of the best institutions in India coaching and mentoring thousands of Civil Service aspirants was founded in 2004. This academy which was nothing but a gleam in the eye of Mr. Shankar.D in 2004, a post graduate in agriculture (also an aspirant who qualified for interview twice), has evolved over the years to the extent of successfully helping 1000+ candidates realize their dream of becoming a bureaucrat and guiding thousands of others to realize their potential. They take pride in having successfully contributed to nation building albeit, in a small way.
Prof.V.Jethose(Principal-JCTPC) welcomed Mr. Sakthya Krishnan, AIR 116 in UPSC 2014and Mr.Nethaji Kumar D, Placement Officer, felicitated the team.
Mr. Sakthya Krishnan, gave an awareness among students about the Civil Services Exam. He clearly explained about the UPSC Exam structure. He briefly explained about the two types of Prelims and Main Examination and Final Interview in UPSC. He guided the students how to register, prepare and clear the test and interview. He deeply analyzed with practical experience on Indian Polity and Governance.
He explained his experiences for cracking UPSC Examination. He had an interactive session with our students. The Management and Principal thanked the Shankar IAS Academy, Chennai team.